Kyoto
Formerly the imperial capital of Japan, it is in this city that the traditional Japanese 'high arts' flourished. Tea ceremony, calligraphy, poetry, philosophy, or religion, Kyoto is the number one place to visit. Numerous temples and shrines are located throughout the city and walking along canals, next to traditional wooden houses and through the small streets really gives you an idea of the ancient Japanese imperial culture. Kyoto is not just about the high arts, however. The city is also famous for its crafts: textile, kimono, and pottery. Although there is a lot to see and do in Kyoto, even a short-time visitor can soon get an appreciation of what this ancient capital has to offer. Kyoto is the must-see destination for traditional Japan.


Higashiyama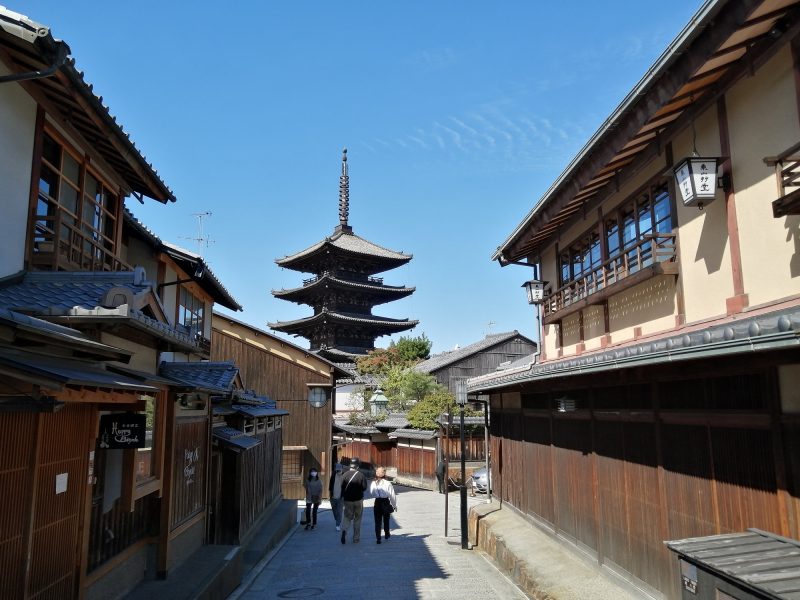 This is the main tourist area in Kyoto and is where many temples and shrines are located. Higashiyama is best explored on foot. While walking from one famous temple to another you will discover narrow alleyways and shops. Also do not worry about getting lost as the people of Kyoto are very friendly and the area is safe. If you do get lost just jump in a taxi and tell the driver where you want to go.
This area has so many great sights including: Kiyomizudera, Ganjisangendo, Ginkakuji, Yasaka Schrine, Heian Jingu Shrine, Nanzenji and the Philosopher's Path. It is impossible to list all of the main points of interest here so please see Kyoto Walks on the following pages for ideas on how to explore Higashiyama.



Gion
This is Kyoto's most famous geisha district where you can still see geisha and maiko (apprentice geisha) walking or taking a taxi to their next appointment.


Hanamikoji Street 花見小路
This is one of the best places to see geisha or maiko as there are many Ochaya (tea-houses) still operating here. The best time to see one is between the hours of 17:00 to 19:00 and you will know you are in the right place due to the crowds standing around with their cameras ready. There are also many high end restaurants and shops.


Pontocho Geisha District 先斗町
Pontocho is a geisha district just on the other side of Hanamikoji Street. This narrow street is lined with shops, bars and restaurants. The chances of seeing a geisha are slim here but you can feel the way old Kyoto looked before the age of cars.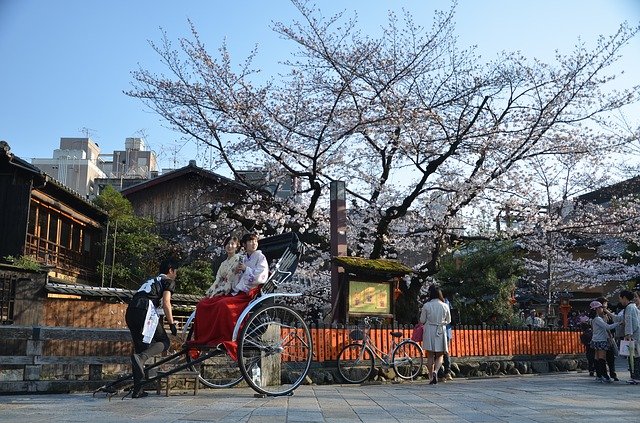 Shirakawa Area 白川This area runs along a willow lined canal and is quieter as it is a little out of the way. It is also a very popular area for photographers as it is very quaint.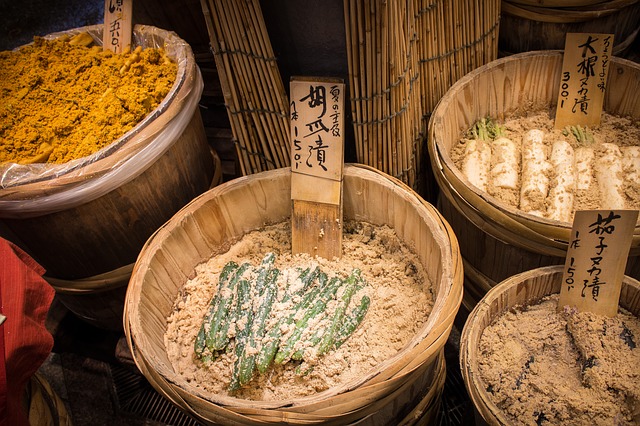 Nishiki Market 錦市場
Located east of Higashiyama this narrow shopping street offers many Kyoto specialty foods and attracts people from all over the Kansai Region. Walking around this area you will discover foods you have never seen before. There is also a more modern shopping area near Nishiki Market where you can people watch, find many used Kimono shops, and pick up souvenirs. If you have sewing talent you can purchase these used kimono, take them apart and make new designs and applications.



Arashiyama
This is where many of the scenes of the Tale of Genji (Genji Monogatari 源氏物語) are set. The Tale of Genji was written by noblewoman Murasaki Shikukbu in the early 11th century and is considered by some to be the world's first novel. This story is so important to Japanese culture that it is required reading in schools and was even depicted on the 2000 yen note.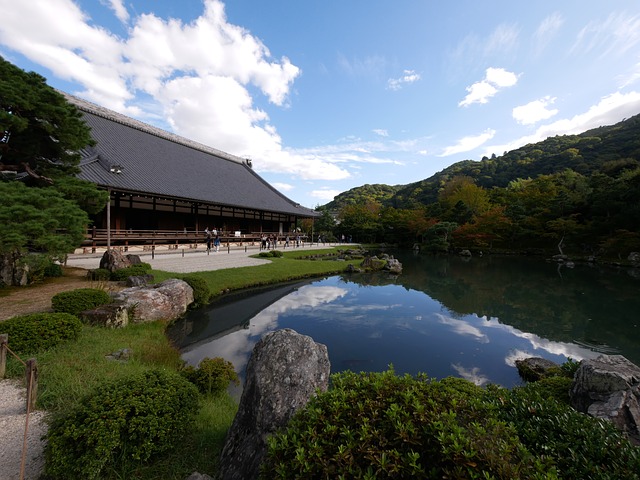 Tenryuji Temple 天竜寺
This temple was originally built in 1339 and is considered to be the best of Kyoto's "Five Great Zen Temples." It is famous for its landscape garden which has remained in it original form.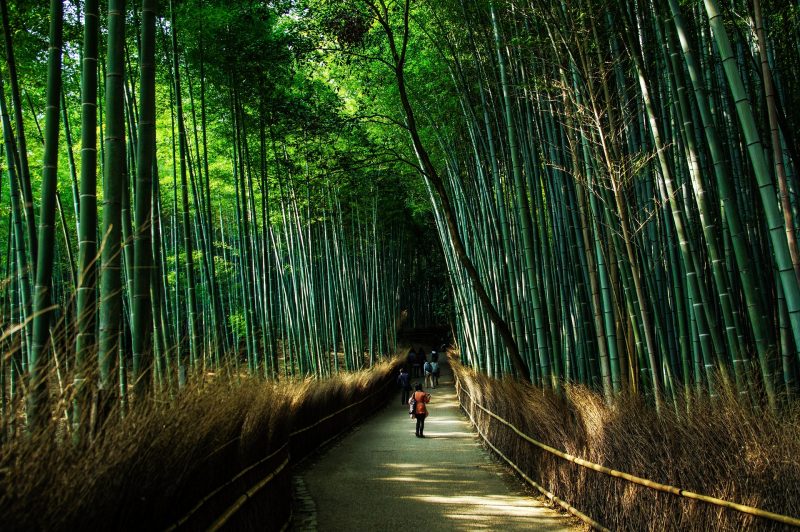 Bamboo Groves 竹の森
You will find these behind Tenryuji Temple and along the trail to Okochi Sanso. While walking along this quiet path please imagine how the life of old Japan might have been.


Togetsukyo Bridge 渡月橋
This bridge is the symbol of Arashiyama and has existed in some form since before the 11th century.


Okochi Sanso 大河内山荘
This villa complex consists of several buildings, beautiful gardens and views of Kyoto.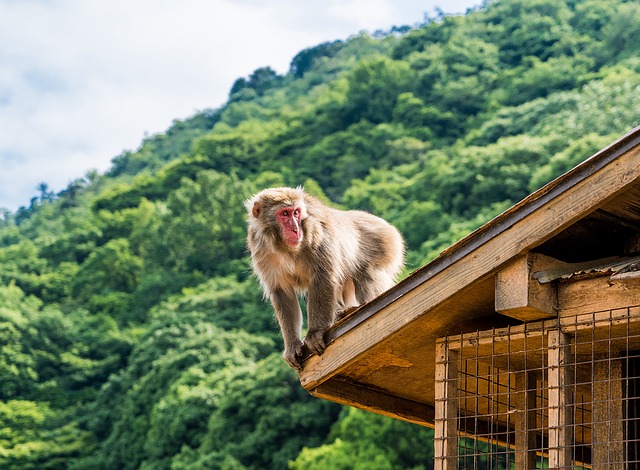 Monkey Park Iwatayama 嵐山モンキーパーク
Wild monkeys live in the wooded mountains over Arashiyama and can be seen at the Monkey Park. It is a steep walk (15-20 minutes) from Togetsukyo Bridge.


Hozu River Boat Tours 保津川
Ride along the currents of the Hozu River in a boat powered by 3 boatmen from Kameoka to Arashiyama. This relaxing cruise has a few small rapids and will give you a great chance to enjoy Japan's more natural side. The launch pier can be reached by the Sagano Romantic Train or by the JR Sagano Line near Kameoka Station.


Sagano Romantic Train 嵯峨野ロマンチックトレイン
This is an old train line that runs along the mountain sides and served people traveling from Kameoka to Kyoto before the tunnels were dug. You can travel up the river in the Sagano Romantic train and then take the Hozu River Boat Tour back to Arashiyama


Central Kyoto
This is the area just north of JR Kyoto station. While it is not a popular tourist destination it includes many wonderful spots including:


Nijojo Castle 二条城
This castle was built as the private residence of Tokugawa Ieyasu, who established the Edo Shogunate. Ieyasu lived in Edo and only used this castle while visiting Kyoto. Not bad for a second house.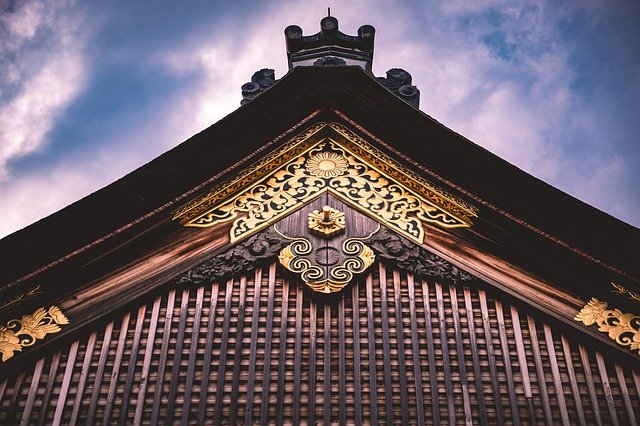 Kyoto Imperial Palace 京都御所
This is where the Imperial Family lived until they were moved to Edo in 1868. The palace was destroyed and rebuilt over the centuries with the current building being built in 1855. The palace can only be visited with special permission and you must apply for it with your passport at the Kyoto Imperial Park. Generally you can apply on the same day you wish to visit. English tours are available twice a day.


Kyoto International Manga Museum 京都国際マンガミュージアム
Kyoto also has modern sites to visit. The Kyoto International Manga Museum is located near Karasumaoike Subway Station on the Karasuma or Tozai line. Here you can read manga from the "Wall of Manga", join a workshop or just soak in the "Otaku" lifestyle. https://www.kyotomm.jp/en/


Robert Yellin Yakimono Pottery Gallery
Japan is well known for its pottery and no one knows Japanese pottery as well as our friend Robert Yellin. A visit to his gallery in Kyoto will open your eyes and heart to this amazing art form. You will always remember your visit to Roberts gallery. Contact us to arrange a visit to Robert's gallery.


Rediscover Tour's Destination List
Contact us to start planning your tour to Japan