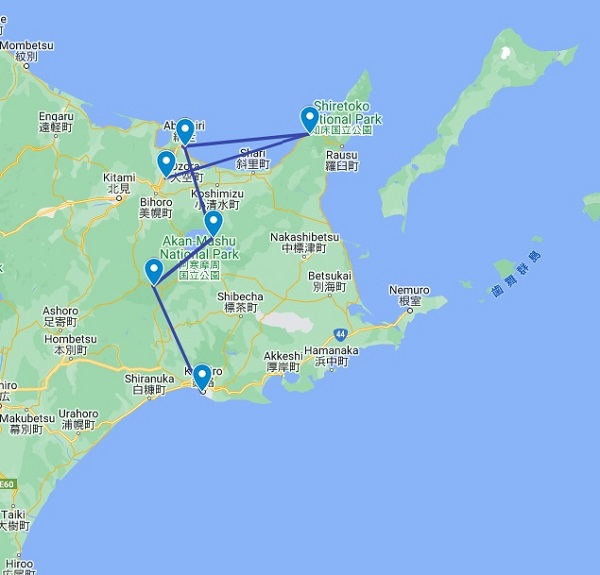 Hokkaido is the second-largest of Japan's islands and long regarded as a remote wilderness by other residents of the Japanese archipelago. Known in feudal times as Ezo, Hokkaido was originally inhabited only by the indigenous Ainu people. Today it attracts nature lovers and is a pristine paradise of mountain ranges, lush forests, and indescribably beautiful crater lakes produced by volcanic activity.



Join our small-group guided tour on a wonderful journey from Kushiro on Hokkaido's eastern Pacific coast, through to the Shiretoko Peninsula stretching out into the Sea of Okhotsk. See untouched nature, visit UNESCO wetland nature reserves, experience spectacular landscapes formed by volcanoes, and enjoy flora and fauna special to Hokkaido.

You have the chance to spot abundant wildlife as we walk the trails – watch for foxes, deer, and numerous species of birds. After each day's walk, we relax in Onsen hot springs, a delightful by-product of the region's geothermal activity. Another highlight of the tour is Hokkaido's wonderful regional cuisine, some of the freshest in Japan with local specialties found at every stage of our journey. Hokkaido covers too large an area to explore on just one visit, but this tour brings you to the very best locations on the island.


Your adventure begins in the fishing port of Kushiro, famous for some of the best seafood in Japan and home to a unique fishing culture that invented the Robatayaki style of cooking on an open grill. From Kushiro, we visit Hokkaido's largest marshland area and continue to Lake Akan, the only place where the famous spherical Marimo algae can be spotted.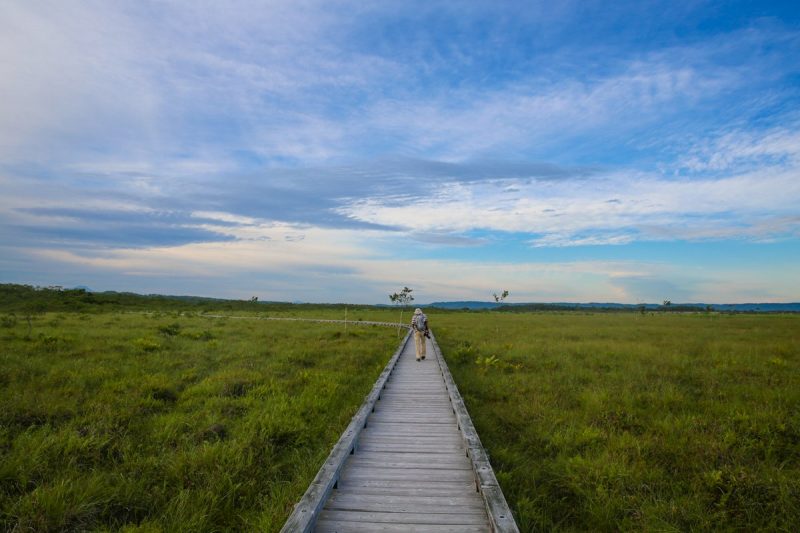 At Ainu Kotan village, home to the largest remaining Ainu community in Hokkaido, we view a traditional dance performance. Our journey also brings us to Lake Mashu, one of the clearest lakes in the world, and finally onwards to the Onsen town of Utoro on the Sea of Okhotsk. If the weather is kind, we take a boat ride from the Shiretoko Peninsula with the chance to glimpse waterfalls visible only be seen from the sea and Hokkaido brown bears searching for fish with their cubs. Shiretoko is the very end of Japan – a remote area of truly untouched nature.


Dates:
September 8 to September 16, 2023
July 22 to July 30, 2024
August 16 to August 24, 2024
August 30 to September 7, 2024
September 9 to September 7, 2024


Price per person:
Starting from US$4045.00 based on double occupancy (subject to change without notice)
---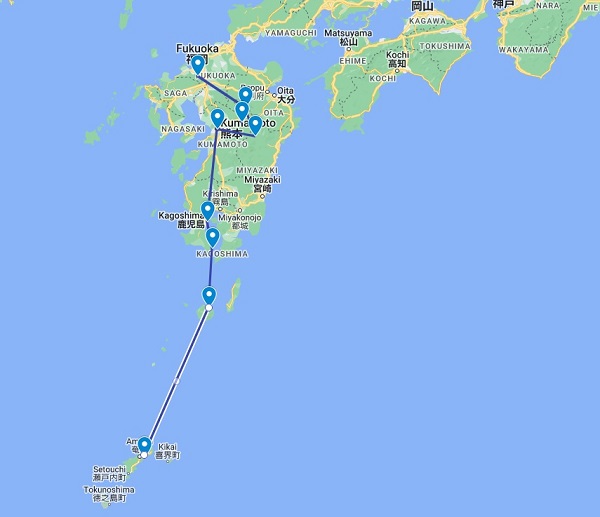 This once-in-a-lifetime tour combines the best of Kyushu giving you a chance to explore fully the island and its culture from Fukuoka down south to Amami Oshima. You will first rent a car and head to Kurokawa Onsen to relax in a ryokan (traditional inn) with a hot spring bath and a gourmet dinner. The next day you will face nature on its wildest side around Mt Aso volcano.

Then it will be time to discover the legends of Takachiho Gorge before stopping in Kumamoto and witness the reconstruction of its famous castle. Later you will head to Kagoshima where stands Sakurajima (one of Japan's most active volcanoes). After breakfast in Kagoshima, you will visit Chiran Samurai District. This town preserved houses and gardens that are about 250 years old. Next, you will head to Ibusuki for a black-sand spa.


After dropping off your rental car you will onboard for a 3 hours ferry ride and disembark on Yakushima Island. The subtropical island of Yakushima famous for its wildlife and cedar forests. The oldest trees are said to be over 7000 years old. Finally, the cherry on the cake: you will fly to Amami Oshima who will show you all its splendor!


This tour can be fully customized.
The below itinerary is an example of a Classical custom tour.
Price per person based on double occupancy for two travelers:
Classical: from US$5,730
Superior: from US$9,450
Luxury: price upon request
Request a Quote
---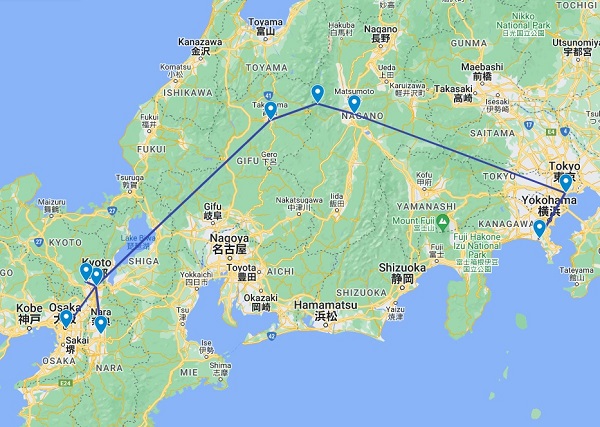 This tour is an invitation to discover the must-see destinations of Japan like Tokyo, Kyoto while also visiting more off-the-beat destinations like Kamikochi and Matsumoto plus get the best of meal of each destination. Along the way, you will sample some amazing food. Good to know: The below itinerary is only available only from April 15 to November 30 because Kamikochi is closed in winter.

Kamikochi
This stunning alpine region, preserved in its natural state, is home to Mt. Hotadake and Mt. Yakedake, the latter of which is an active volcano, as well as several lakes. Vehicles are not allowed the area part of Chubu Sangaku National Park, so it offers the rare opportunity to see some of Japan's beautiful natural scenery in its original, pristine state.



Matsumoto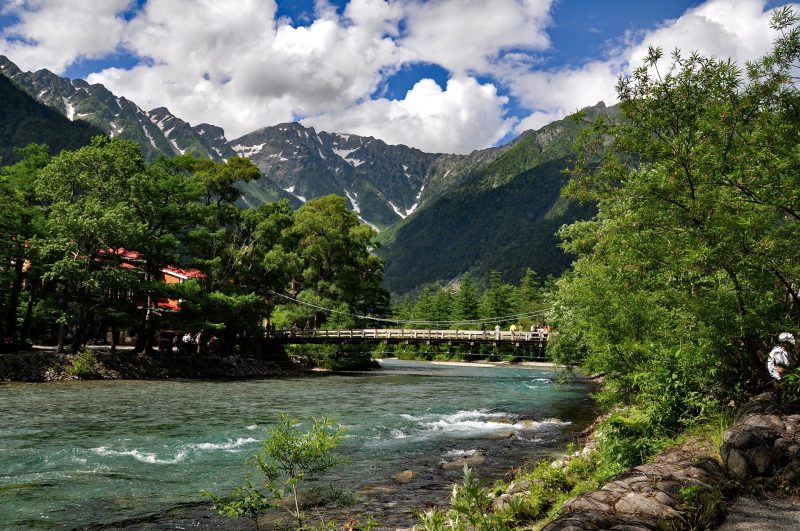 Matsumoto, formerly a castle town and now a bustling, modern city, is located in Nagano Prefecture, in the Chubu region of Japan. The most famous site in Matsumoto is its stunning feudal era castle, which is a national treasure and one of the few remaining castles from that period in Japanese history. It is set atop a hill and its walls are black, making for a stunning spectacle. While in Matsumoto we invite you to try tasty soba noodles and locally grown wasabi.


This tour can be fully customized.
The below itinerary is an example of a Classical custom tour.
Price per person based on double occupancy for two travelers:
Classical: from US$6,060
Superior: from US$9,070
Luxury: price upon request
Request a Quote
---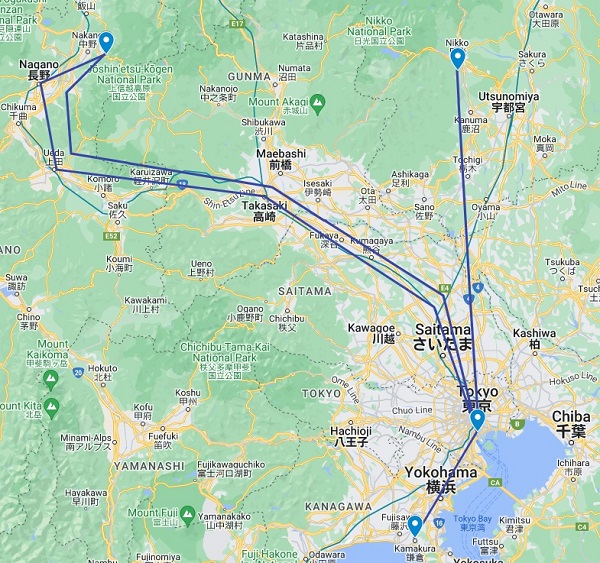 You will start by exploring Japan's capital city of Tokyo before heading north to the hot spring town of Yudanaka. During the winter in Japan snow monkeys keep warm by bathing in a natural hot spring. Their antics and cuteness have traveled the world and make a popular travel destinations. You will then head back to Tokyo where you will base your exploration of Japan with day trips to Nikko and Kamakura.


This tour can be fully customized.
The below itinerary is an example of a Classical custom tour.
Price per person based on double occupancy for two travelers:
Classical: from US$3,490
Superior: from US$4,950
Luxury: price upon request
Request a Quote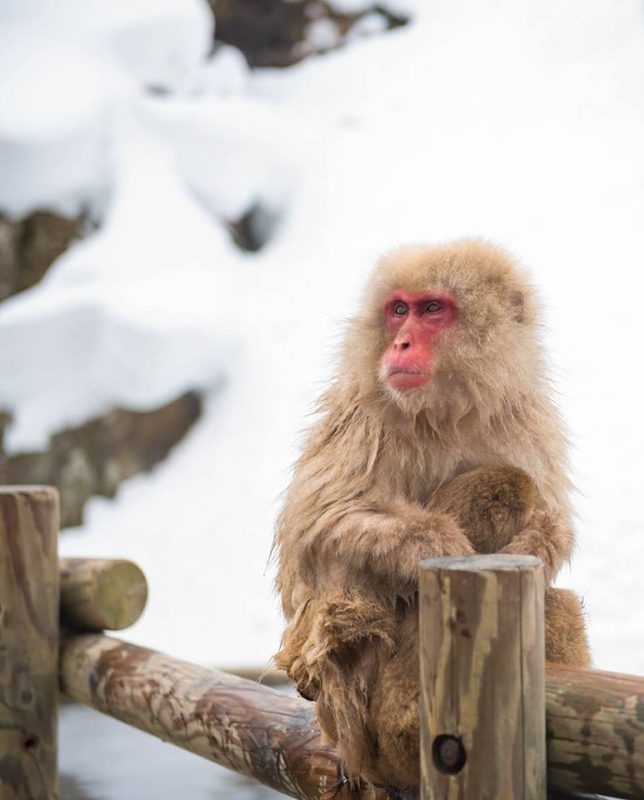 ---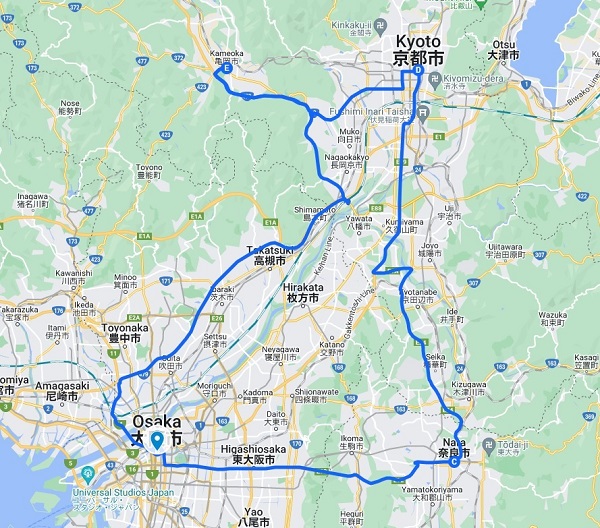 Our Rural Discovery Independent Tour will introduce you to rural Japan and its people while staying with a Japanese family. Of course, you will see some amazing sights but the point is to sit down and talk with Japanese people, learn how Japanese live, and experience something beyond traditional sightseeing. Our rural home-stay tour will give you stories that you will remember long after your photos have faded.


During your rural home stay opportunities are endless…
*Learn to cook traditional Japanese dishes
*Explore the village by bicycle or on foot, visit Izumo Daijingu Shrine and the Anao Temple which usually do not welcome tourists
*Experience a traditional tea ceremony, try Japanese ikebana (flower arrangement), write Japanese calligraphy, and try to play the Koto (traditional Japanese stringed instrument) with our local cultural experts and artisans
*Ride riverboats through the Honzu River Gorge, an ancient trade route to Kyoto
*Tour a local sake brewery, a tofu maker, a pottery studio, a antique shop
*Relax at the Hiyoshi Hot Springs, treat yourself to a Shiatsu massage
*Bonsai workshop
*Visit the world's best whetstone excavation site
*Journey through rice paddies and farmlands to the historic mountain village of Miyama


This tour can be fully customized.
The below itinerary is an example of a Classical custom tour.
Price per person based on double occupancy for two travelers:
Classical: from US$2,710
Superior: from US$3,810
Luxury: price upon request
---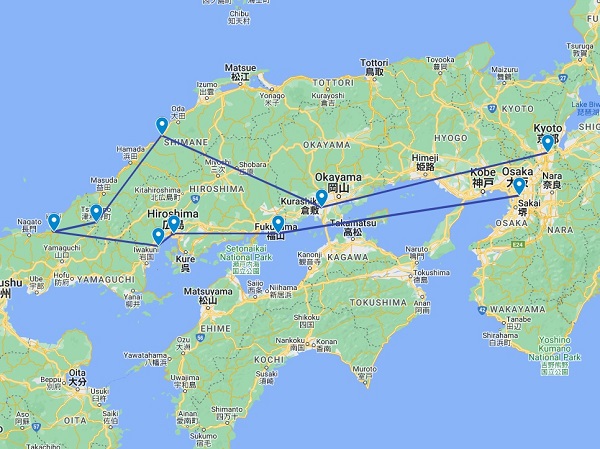 This small-group tour begins in Japan's old capital of Kyoto; let this ancient city fascinate you with its traditional narrow streets. Admire Kurashiki's historical area and experience a tatami-mat workshop and traditional "shamisen" local folk music. We travel by train to Yunotsu on the Japan Sea Coast, one of the oldest hot spring towns in Japan, and a UNESCO World Heritage site along with Iwami Ginzan Silver Mine.

Enjoy soaking in the mineral water before leaving for Tsuwano, a charming town known as the 'little Kyoto of San'in' with its picturesque streets lined with Edo-era buildings and Koi carp ponds.

The journey continues through the former castle town of Hagi, famous for its pottery, then to Hiroshima and the famous Miyajima Island as well as Sensui-jima Island, a secret paradise on the Seto Inland Sea. We will arrive in energetic Osaka, where neon and crowds welcome you back to the modern side of Japan.


Dates:
September 25 to October 6, 2023
February 25 to March 7, 2024
May 20 to May 31, 2024
September 23 to October 4, 2024

Price per person:
Starting from US$4560.00 based on double occupancy (subject to change without notice)
---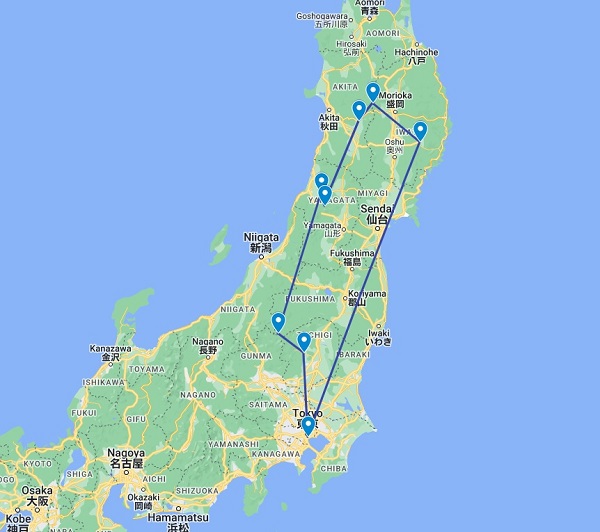 Our journey takes us north from Tokyo to a landscape rich in spirituality and tradition. Though off the established tourist circuit, the sights of northern Japan rival anywhere in the country in their beauty and atmospheric grandeur. We visit both the better-known, magnificent destinations, such as the UNESCO World Heritage site of Toshogu shrine at Nikko and Dewa Sanzan, as well as the region's more remote hot springs and beautiful national parks. We take exhilarating walks through beautiful scenery in the Oze Wetlands, Mount Gas-san, and the Tono Valley.
The Japanese poet Matsuo Basho traveled through this region in the 17th century, a journey subsequently published as The Narrow Road to the Deep North. We will visit several of the places which inspired his famous haiku poems. Our small group stays at traditional Ryokan and Minshuku inns in the countryside – always with wonderful service and beautifully-prepared regional cuisine featuring fresh local ingredients. Natural hot-spring baths are highlights of our journey. At Tochio near Oze our hot-spring Ryokan has open-air baths next to a rushing river, while at Nyuto near Lake Tazawako, the 300-year-old Tsuru-no-yu Ryokan has eight baths, some with the famous milky-white spring water. The tour begins and ends in Tokyo, with time for sightseeing and shopping.
Dates:

July 1 to July 13, 2024
August 16 to August 28, 2024
Price per person:
Starting from US$4,930.00 based on double occupancy (subject to change without notice)
---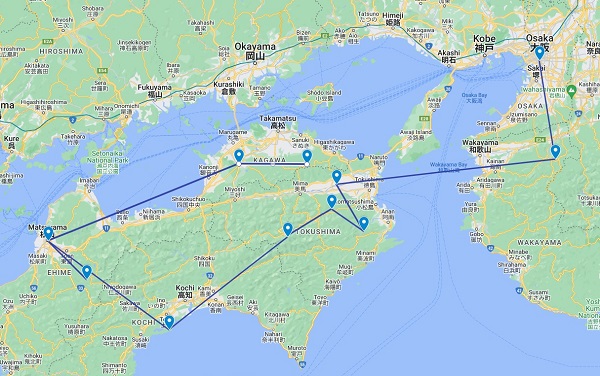 This small-group tour takes you to the fourth-largest of Japan's islands, Shikoku is home to the 88 Temple Pilgrimage Trail. Fascinating aspects of this deeply spiritual route include how little is known of its origins, and its mysterious connection with Kobo Daishi, founder of Shingon Buddhism. Pilgrims have walked the trails for 1200 years and even today we will see pilgrims in their distinctive attire and white cloaks throughout the island. The full pilgrimage route encircles Shikoku and connects 88 Buddhist temples, covering more than a thousand kilometers. Pilgrims, known in Japanese as Ohenro, traditionally did the journey from temple to temple on foot over many weeks.


Our tour selects the best of the walking trails through lovely landscapes. We visit all four of Shikoku's prefectures – Tokushima in the east, Kagawa in the north, Ehime in the west, and Kochi in the south. Each region has its own distinctive character, food, and scenery. In addition to the pilgrimage trail, our journey includes the remote Iya Valley, deep in the heart of Shikoku. We begin our journey with a stay on Mount Koya, the hilltop temple complex on Honshu established by Kobo Daishi, and an important location for Shikoku 88 Temple Pilgrimage devotees. Public transport in the rural areas of Shikoku is limited and we will travel mainly by private chartered vehicle, but we will still enjoy walking along the ancient route from temple to temple through countryside and forest. We will stay in traditional country inns enjoying regional cuisine prepared from local ingredients from the island, soaking in natural hot springs, and enjoying the exceptional hospitality of our hosts.


Dates:
October 15 to October 27, 2023
May 12 to May 24, 2024
October 13 to October 25, 2024


Price per person:
Starting from US$5,210.00 based on double occupancy (subject to change without notice)
---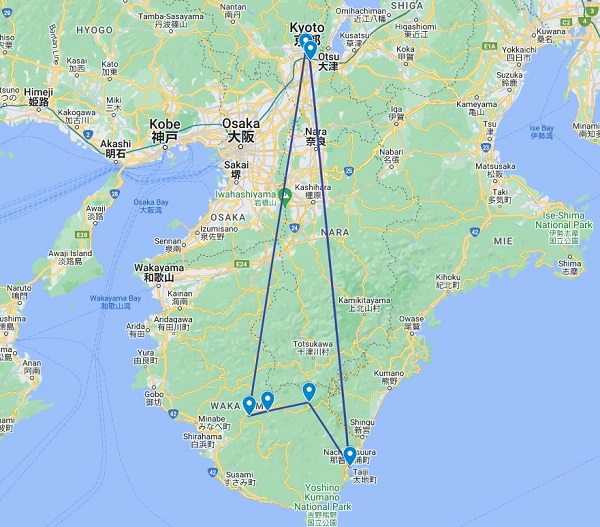 This small-group tour shows you the Kumano Kodo, or Kumano Ancient Trail, which is a pilgrimage route to Kumano, part of the mountainous Kii Peninsula that stretches south from the Kansai cities of Osaka, Nara, and Kyoto. The well-maintained trail threads its way through deep valleys, mountains, and small villages to offer a wonderfully varied hike over four days.


Stay at comfortable family-run inns with excellent food, soak in natural hot springs, and visit the shrines along the way. The pilgrimage routes to the three great Kumano Shrines – Kumano Hongu Taisha, Kumano Nachi Taisha, and Hayatama Taisha – were popularized during and after the Heian Period (794-1185), when the Imperial family and nobility began to seek salvation in sangaku shinko (a belief in the supernatural power of mountains), rather than through common religious practices. Emperor Gotoba (1180-1239) made no fewer than thirty pilgrimages to Kumano, recording his thoughts and feelings in the Kumano poems.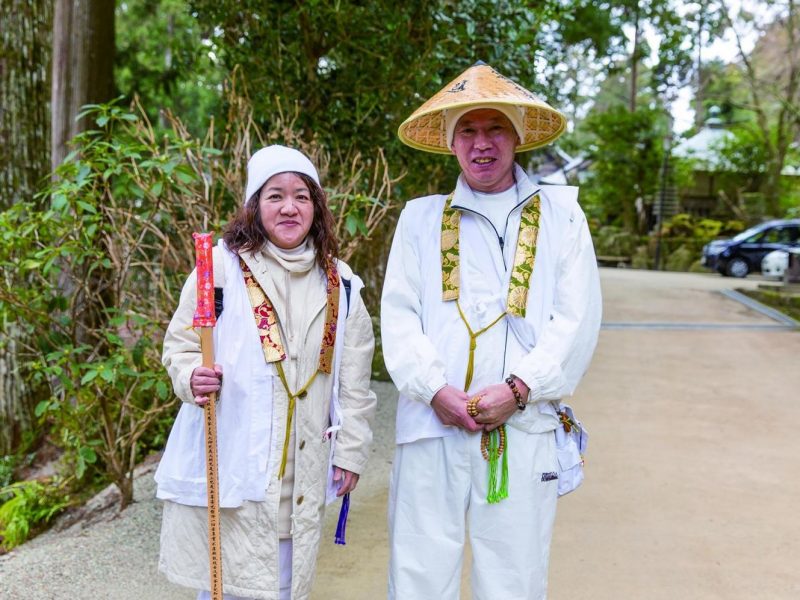 Our journey begins in the modern city of Kyoto, and we travel south by train along the coast and spend four days hiking the Nakahechi, one of the Kumano Kodo trails, and a UNESCO World Heritage site. There is a day mid-way to relax, with a gentle ride along the Kumano River to the Hayatama Taisha Shrine. We cross the Kii Peninsula on foot to its eastern coast, and the fishing town of Katsuura, with two nights at a hot-spring hotel and a further optional day of hiking. We finish by traveling on to Kyoto by train. On small-group guided tours, your guide takes care of luggage arrangements for you.


Dates:
October 18 to October 26, 2023 – Full
November 1 to November 9, 2023 – Full
April 8 to April 16, 2024 – Full
May 8 to May 16, 2024
June 6 to June 14, 2024
September 25 to October 3, 2024
October 16 to October 24, 2024
November 9 to November 17, 2024
Price per person:
Starting from US$3395.00 based on double occupancy (subject to change without notice)
---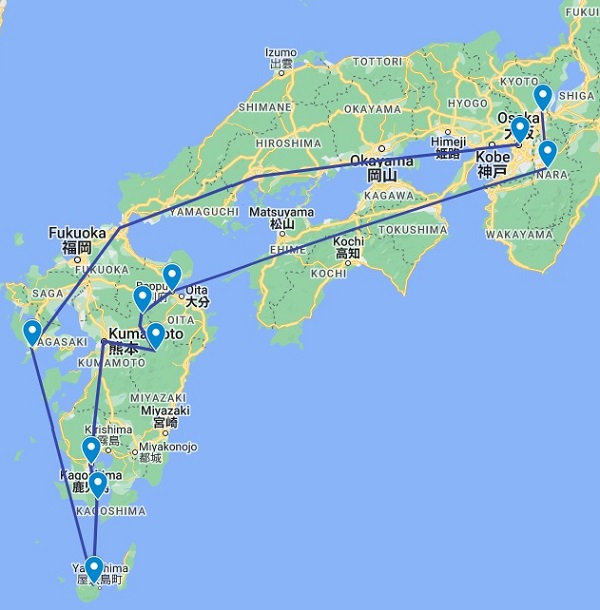 Our Land of Fire small-group tour starts in Kyoto, the former imperial capital and repository of much of Japan's cultural heritage. We visit Asuka, where Japan's early Emperors are buried, then a boat journey through the Inland Sea brings us to the southern island of Kyushu. Known as the cradle of Japanese civilization, several locations are connected with the Japanese creation myths which inspired the Yokagura dances in Takachiho.


Kyushu is also known for its numerous active volcanoes, as well as the spectacular island of Yakushima to the south, a national park and UNESCO World Heritage site. Unique flora and fauna can be admired here, including giant Yakusugi cedars, Yakushima yakushika deer, and yakuzaru macaques. A natural by-product of the volcanoes is onsen hot springs and we will enjoy relaxing dips in their soothing waters, as well as the unforgettable hot sand baths at Yamakawa where we are buried in hot sand. View Mount Aso with the world's largest volcanic caldera and visit the vibrant city of Nagasaki. Stay at traditional inns and guest houses, enjoying dishes prepared with the freshest ingredients. Our tour ends amidst the crowds and neon of Osaka, Japan's second city and culinary capital.

Dates:
October 21 to November 4, 2023 – Full
March 11 to March 25, 2024
April 3 to April 17, 2024
September 25 to October 9, 2024
October 19 to November 2, 2024


Price per person:
Starting from US$5,160.00 based on double occupancy (subject to change without notice)
---