Sakura in Yoshino
Yoshino is located in Nara Prefecture. It is Japan's most famous cherry blossom spot. It features over 30,000 cherry trees planted around the slopes which visitors can admire as they walk along the roads that lead up the mountain. The mountain is also home to the Yoshimizu Shrine, with its collection of ceramics, paintings and armor. Nearby are the massive, wooden Kinpusen-ji Temple and centuries-old Nyoirin-ji Temple. The area is also renowned for its natural hot springs.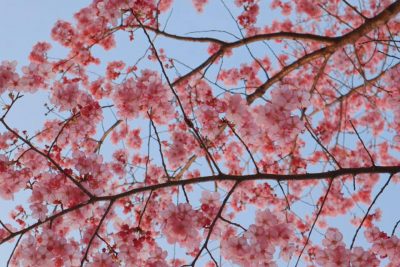 It is said that the first trees were planted along its slopes more than 1300 years ago, and today the mountain is covered by approximately 30,000 cherry trees of many different varieties, especially of the Yamazakura variety.
Yoshino or Yoshinoyama is a north-facing mountain slope, so be ready to for some steep walking. It is divided into four areas:The Shimo-Senbon, literally the lower thousand trees, is located at the base of the mountain and comes into bloom first.  The Naka Senbon at the middle of the mountain with about 1000 trees. The Kami Senbon and Oku Senbon: these areas are closer to the top of the mountain (literally "the upper 1,000 trees"), and generally less crowded during cherry blossom season than the other sites lower down. It's the last place to hit full bloom, so you can still see flowers here in late-April. Visitors can enjoy the cherry trees as they ascend the mountain, passing Yoshino's touristy town with its various temples, shrines, boutiques and restaurant. Enjoying hanami in the parks and viewpoints along the way is must !