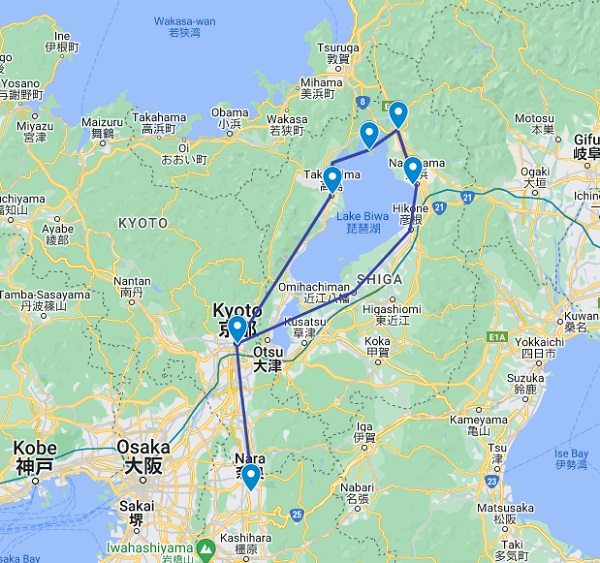 This tour is an invitation to enjoy cycling and discover rural Japan at your own pace around Lake Biwa near Kyoto. Firstly this journey will start in Kyoto. The ancient capital offers countless attractions that you will explore with a private local guide. Then on the third day, you will take the direction of lake Biwa, the largest Japanese lake. You will pick up your bicycles for a 5-day self-guided ride. We can reserve almost any kind of bicycle, so talk to your Japan Travel Expert for more details. Join this cycling adventure to experience the rustic, rural beauty and culture of Japan.


On your first cycling day
You will firstly start by exploring Omi-Hachiman and its traditional merchant town. Then you will stop in Hikone, famous for its well-preserved Castle. Next, you will reach Maibara where you will pick up your bicycles. Your first cycling day will be an easy 11 km (7 miles) bicycle ride up to Nagahama where you will board for a cruise to visit the sacred Island of Chikubushima, known to be a source of great spiritual energy on lake Biwa.


Second cycling day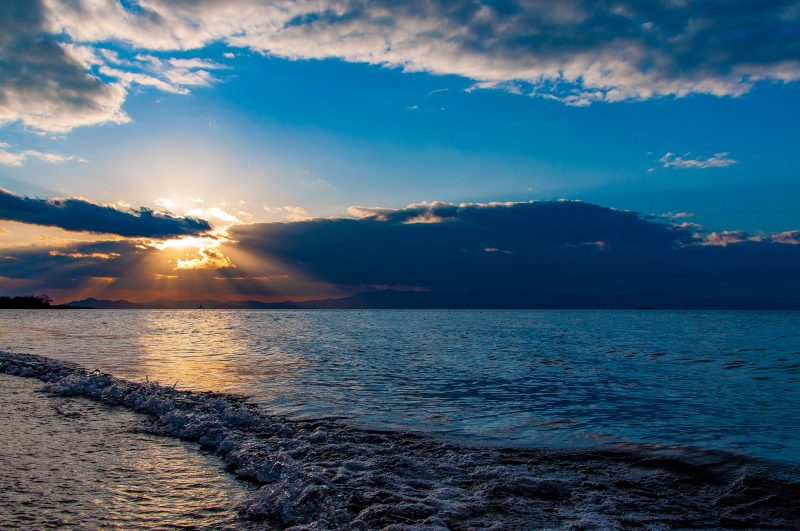 You will follow the eastern shore of the lake up to Kinomoto where you will have dinner and spend the night. It's a 35 km (about 21 miles) ride. Cycle at your own pace through beautiful natural scenery and rural landscapes: stunning lake views, vast rice fields, discover ancient Shinto shrines and Buddhist temples.


Third cycling day
Visit hidden Lake Yogo, known as the "mirror lake", and enjoy the view from Shizugatake hill-top. Then you will head for Sugaura a picturesque lakeside village with a rich local history where you will rest for the night.

For the fourth cycling day
Take it easy! Omimaiko Beach is the most famous one with white sand and groves of shady pines.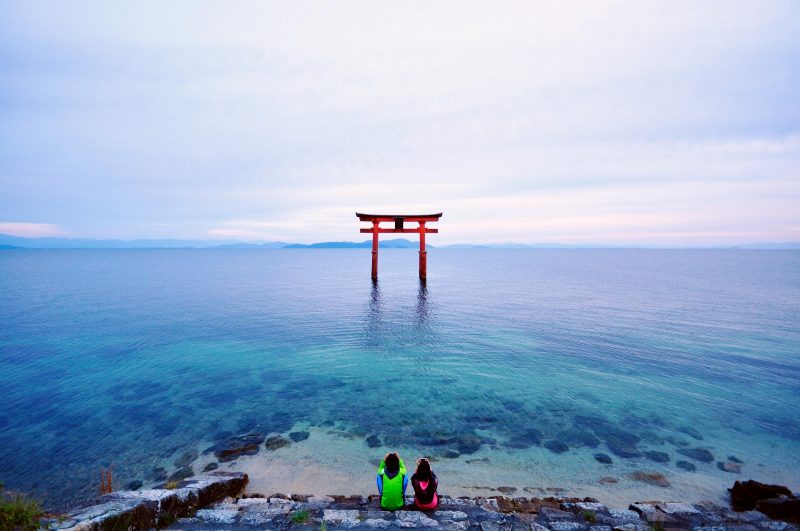 Final day on the saddle
An easy ride to Omi-Maiko where you drop off your bicycles. The ride is about 22 km long (13 miles). Don't miss the Shirahige Shrine Torii gate it's a must in the region! You will then take a train to go back to Kyoto.
Additionally this tour is a chance to appreciate spectacular views and traditional Japanese architecture. Meet local people, taste regional cuisine, and stay at a ryokan (traditional Japanese inn).

Finally, you will come back to Kyoto before visiting Nara, the other ancient capital, and its great Buddha. This is a tailor-made tour so feel free to ask any request to our Japan Travel Expert. At Rediscover Tours we will make sure you get the best cycling experience!




The price of your tour will vary depending on what you want to do, where you want to go and other details. For help estimating your budget please see
https://www.rediscovertours.com/private-tour-pricing/
---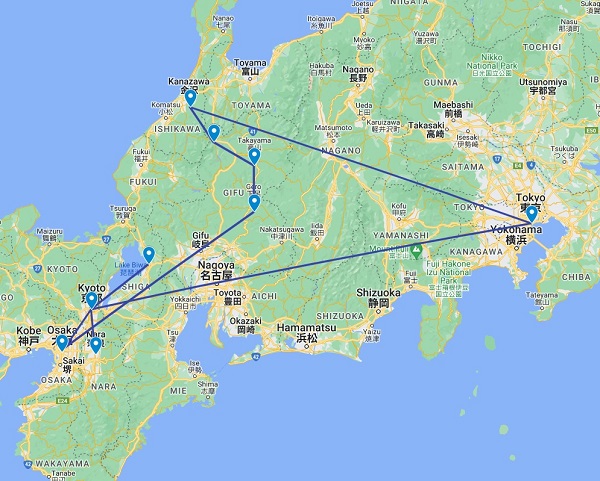 The journey starts in Tokyo; the seat of the Japanese government since the Edo Period (1603 to 1868). On the second day of your trip, a Private Local Guide will show you around the largest city in the world. Tokyo is a vibrant metropolis overflowing with many fascinating sights, sounds, and experiences for you to enjoy. During your trip, you may wish to visit some of the different neighborhoods like Akihabara, Shinjuku, Ginza, Harajuku, Shibuya, and the like.


Kanazawa & Takayama via Shirakawa-go
You will then head to Kanazawa by Shinkansen Bullet Train. Kanazawa presents historical attractions such as restored samurai residences and geisha districts, as well as modern museums. Kanazawa's most popular attraction is Kenrokuen, one of Japan's "three best landscape gardens" and by many considered the most beautiful one. The next day, after breakfast you will take a bus to Takayama via Shirakawa-go to see a well-preserved merchant street and morning market.


Hot Spring Ryokan
Then you will travel to Gero Onsen where you will stay at a Hot Spring Ryokan. Your ryokan will serve you a traditional kaiseki dinner and you will relax in their hot spring baths. Once you are completely relaxed you will head to Osaka known as the kitchen of Japan and its friendly people. To discover Japan more in-depth we invite you for a bicycle ride from the center of Osaka to Minoh and its beautiful forest where you might find wild monkeys.


Kyoto
Your next destination will be Kyoto, the imperial capital. Here you will explore the streets where the emperor and other aristocrats played and worshiped. For your second day in Kyoto, a Private Local Guide will pick you up at your hotel and show you the best sites in Kyoto. Then you will take a day trip to Nara which was the first capital of Japan. Next, you will ride bicycles around Lake Biwa near Kyoto to discover this rural area at your own pace. You will then head back to Tokyo to prepare for your flight home.


This tour can be fully customized.
The below itinerary is an example of a Classical custom tour.
Price per person based on double occupancy for two travelers:
Classical: from US$6,060
Superior: from US$8,860
Luxury: price upon request
Request a Quote
---